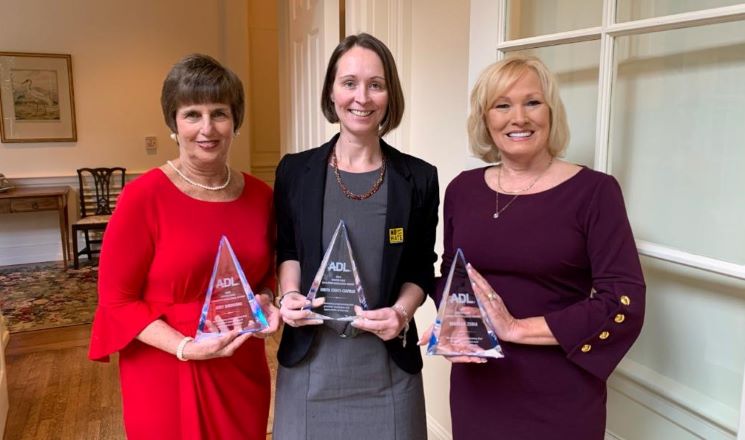 On December 5, more than 200 people attended the ADL Southwest Region's 2019 No Place for Hate® luncheon honoring three area school counselors with the Walter Kase Educator Excellence Award.
Pine Shadows Elementary School Counselor Judy Birdsong, Deer Park Junior High School Counselor Kimeya Courts-Chapman, and James Bowie Middle School Counselor Debbie Zubia received the Award for their work to promote understanding of and respect for diversity.  The Award is named in memory of Walter Kase, a Houston Holocaust survivor who spoke to students regularly for 25 years about the destructive qualities of hate and the life-giving power of love.
During their acceptance speeches, each of the counselors spoke about the value of No Place for Hate®, how it had changed their schools and their students' lives, and how they were honored to receive an award named after Walter, someone they truly admired.
Judy Birdsong told the crowd she had been involved with No Place for Hate® for over 17 years and she would continue to promote it because "we know that respect, love and feeling connected are the keys to a safe and happy student and a safe, happy school."
Kimeya Courts-Chapman said, "the idea of helping to make a school climate where hate and name calling would no longer be cool really spoke to me."  She talked about how she lets students lead No Place for Hate® meetings and how that empowered them to fight bullying and disrespect in the school's halls.
"Many times, hate stems from fear of the unknown." Debbie Zubia remarked.  "I think that some students are afraid of something because it's different and unfamiliar.  Our No Place for Hate® coalition tries to plan our activities with one goal in mind.  That goal is for students to see that their similarities far outweigh their differences."
The luncheon's keynote speaker, third-grade teacher Angela Wrigglesworth, has faced being different all her life. She captivated the crowd with her story about being born with a form of muscular dystrophy that limits her mobility to a wheelchair, and what that situation has taught her.
When she spoke about how she learned it is important to help others, she recounted the incredible experience of moving a man's stalled car by pushing it with her wheelchair. She said being able to do that made her feel like a superhero: "The feeling of helping others, it's so filling!"
She also spoke of how she had to learn to ask for help herself, and how hard that has been for her, but also how instructive.  "We have to learn to ask each other for help," she said.  "If we ask for help, we will be exponentially better."  She received a standing ovation for her moving talk.
"The No Place for Hate® luncheon really warmed the hearts of everybody who attended and made all of us want to be better, kinder people," said ADL Southwest Regional Director Mark Toubin.  "ADL staff and planning committee members did a terrific job of putting together an event that left people feeling upbeat and inspired to make positive change."
The luncheon raised more than $110,000 dollars for ADL programs and services.