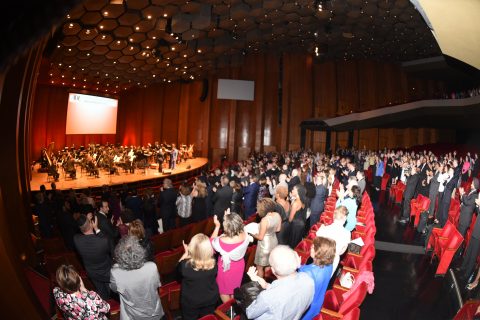 As the nation remembered the legacy of Dr. Martin Luther King, Jr. on the 50th anniversary of his assassination, the Anti-Defamation League's Southwest Region worked to keep his dream alive with Houston in Concert Against Hate.
The Concert, a compendium of soulful music by the Houston Symphony, the moving stories of four local civil rights leaders, the Julie and Ben Rogers Ecumenism Award Recipient, and messages supporting Houston's diversity and connecting their work with Dr. King made for an inspiring evening.
The crowd swayed and cheered as the Symphony and  vocalists Derrick Baskin, Chelsea Cymone and LaKisha Jones interpreted songs such as  "I Know Where I've Been," "Rise Up," "Family,"  "At Last" and "A Change is Gonna Come."  Rapper Genesis Blu fired up the audience with her version of "Where is the Love" by the Black Eyed Peas.
Interspersed with the music, were the stories of each honoree: stories which showed how each one individually was working to achieve Dr. King's dream of a diverse, respectful, peaceful world. St. Agnes Academy Head of School Sister Jane Meyer received the Julie and Ben Rogers Ecumenism Award for her work to instill a sense of social justice in the students who attend the Academy and her efforts toward interfaith understanding.
Community and Muslim activist AJ Durrani was hailed for his grassroots work organizing cultural events and representing his heritage and religion in the political arena.  Former Harris County Sheriff Adrian Garcia received a civil rights award for his dedication to diversity, respect and inclusion as a Houston police officer, Houston City Council Member, and as Sheriff.  FBI Supervisory Special Agent Al Tribble, Jr. was lauded for his civil rights investigations that have brought numerous hate crime perpetrators to justice. And Judge Phyllis Randolph Frye's work as a trailblazing transgender attorney and judge led ADL to present her with a civil rights award.
Ted Oberg of ABC-13 set a perfect tone for each musical piece and honoree as he ably emceed the event, and conductor Lucas Waldin made sure every piece sounded appropriately lush, dynamic, beautiful, and hopeful.
ADL thanks its Event Chairs Carl Josehart and Sam Jacobson, Honorary Chair Houston Mayor Sylvester Turner, who delivered an uplifting message about Houston's diversity, Technical Director Marc Gessner and its program committee of Dee Dee Dochen, Natalie Hausman-Weiss, and Kathy Marks for a job well-done.   Special thanks to Alexander's Fine Portrait Design for the program honoree photos.