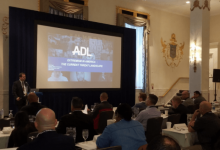 The Southwest Region's committees have been hard at work this year.
Here are some of this year's accomplishments:
Strategic Development
The Southwest Region exceeded its development goal for 2020, under very trying circumstances.
Civil Rights
The Civil Rights Committee helped pass COVID-related anti-hate resolutions in San Antonio,  and Fort Bend County, and well as helped secure a letter against COVID-related hate from the City of Houston's City Council. The committee also worked on cases fighting voter suppression mentioned in the Voting Rights section above, helped to create proposed legislation on doxxing and swatting for the Backspace Hate initiative, and helped refine an ADL national policy on Voting Rights.
Women's Initiative
The Region's Women's Initiative mounted numerous in-person and virtual programs, including a performance and after-play talkback of The Green Book at with the Ensemble Theatre, a commemoration of International Women's Day with the Houston Rockets, and a webinar commemorating the 100th anniversary of the 19th amendment, granting women the right to vote.
COLEA
The Committee on Law Enforcement, Extremism and Antisemitism created presentations on hate incidents and hate crimes and presented them to various police and community groups.
International Affairs
The International Affairs Committee helped create a task force to fight anti-Asian, anti-Immigrant and Antisemitic hate sparked by COVID-19, and provided resources on global antisemitism and white supremacy to numerous consular officials in Houston.