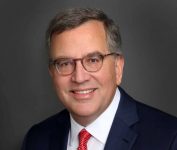 Longtime Baker Botts Attorney Bill Kroger will receive ADL's Karen H. Susman Jurisprudence Award February 19, 2019 at the Hilton Americas Houston.
The award is presented every year to an outstanding member of the legal community who exhibits an exceptional commitment to equality, justice, fairness and community services.  It is named for the late ADL Board Chair Karen H. Susman, in memory of her deep commitment to fighting hatred and doing good work.
Kroger has been a leader in community services for decades.  He founded the HBA/Communities in Schools Legal Internship Program, which has provided jobs to hundreds of inner-city high school students. He also served as chair of Baker Botts' Pro Bono Committee, and under his leadership, the firm provided more than 50,000 hours of pro bono legal help to people in the Houston area.  He also led the firm's efforts to provide pro bono services to victims of Tropical Storm Allison and Hurricane Katrina, and after Hurricane Harvey, spearheaded Baker Botts' effort to convert its phone system into a giant telephone bank for victims.
"We are extremely fortunate to have a leader like Bill Kroger in Houston and we are honored to be able to recognize him with this meaningful award," said ADL Regional Director Mark Toubin. "He deserves to be honored by ADL and by every other community organization that values supporting freedom, fighting bias, and making a difference."
ADL Board Member Nicole Soussan Caplan of Reed Smith LLP is chairing the event.  Honorary chairs include Michael Donaldson of EOG Resources Inc., John Mooz of Hines, and Jason Ryan of CenterPoint Energy.
Click here to register for the event.  For more information, email Gail Glasser.