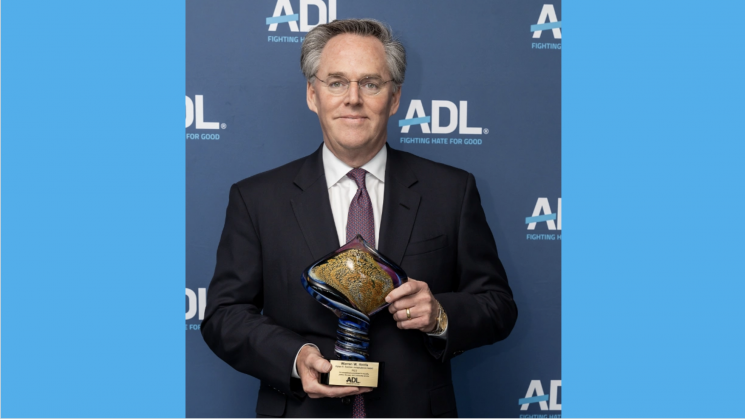 Nearly 700 people joined ADL's Southwest Region to celebrate Bracewell LLP's Warren W. Harris, 2023 recipient of ADL's Karen H. Susman Jurisprudence Award. Named in memory of former ADL Board Chair Karen H. Susman, the award recognizes an outstanding member of the legal community who exhibits an exceptional commitment to equality, justice, fairness, and community service.
The crowd of attendees listened intently to a moving tribute video featuring Texas Supreme Court Justice Brett Busby, former Texas Supreme Court Chief Justice Wallace Jefferson, and Haynes and Boone Senior Counsel and former Jurisprudence Award Recipient Lynne Liberato, who praised Harris as an exceptional appellate lawyer, humble and giving legal professional, and trusted and loyal friend.
Retired Texas Supreme Court Justice Harriet Smith O'Neill also lauded her friend, telling the crowd "Warren exemplifies the character, quality, and values that Karen Susman embodied."
Harris, a past president of the Houston Bar Association and the Texas Supreme Court Historical Society has dedicated much of his time to educating young people on the importance of voting and the rule of law. He developed the Texas Young Lawyers Association's VoTexas Project, a statewide voter education program for high school seniors, and the Taming Texas Project, a judicial civics and court history project for seventh grade students.  Harris also is a lieutenant in the Harris County Sheriff's Office Reserve Command, and has served the community as a law enforcement officer since 1983.
Justice O'Neill interviewed Harris onstage during the luncheon, and her interview covered his background, sources of inspiration, including his late brother, and his love for his profession. "Lawyers help people," Harris said, "and being a lawyer is so much fun!"
ADL Southwest Regional Chair Cheryl Lipshutz presented the award to Harris, who graciously accepted the award, saying "ADL does so many things to promote justice and fairness.  I'm proud to be a supporter of ADL."
The luncheon, co-chaired by Haynes and Boone's Mark Trachtenberg and Bracewell's Jeff Oldham, raised $409,000 to support ADL programs.  Next year's luncheon will take place on April 18.