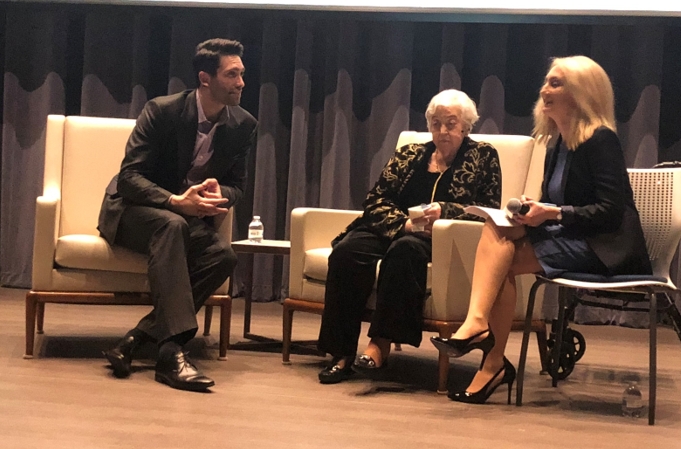 The first lecture in ADL's From Hate to Hope series featured Vera Levitskaya, the grandmother of Dancing with the Stars' Dmitry Chaplin, who told her story of surviving a mass execution in Ukraine during the Holocaust.
Vera was only 11 years old when she was marched by Nazis to a massive pit outside her shtetl of Hashevatoe.  The Nazis had imprisoned Jews in a building in her village and were taking them 20 at a time to the pit and shooting them into the pit.  Somehow, she was missed by the bullets, but she witnessed the killings of her brother and sister.
She describe climbing out of the pit, the only survivor of the mass executions, and going from house to house looking for help.  Someone finally let her in and helped her, but because it was dangerous to hide Jews, she was moved from house to house until she landed with the Levitsky family, with whom she lived for several years.
Vera eventually moved to Minnesota, where her family grew.  Although she's lived there for many years, she's more comfortable speaking Russian than English, so her presentation was translated by translator Ina Kislyuk and her grandson Dmitry.
Dmitry also presented a moving video chronicling a trip he took to Hashevatoe to see where his grandmother and her family had lived, and where all of her family had been massacred.