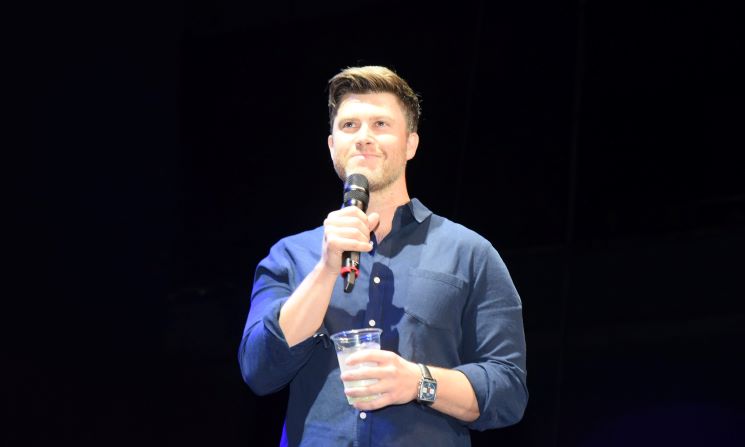 Fighting hate is a serious business, but there were plenty of laughs June 15 when ADL combined SNL's (Saturday Night Live's) Colin Jost with the ComedySportz improv group to present Houston in Concert Against Hate: A Date with Laughter.
Over 500 people attended the concert at Revention Music Center, raising over $500,000 for ADL programs and services. "The vision for the event was suggested by Rochelle Jacobson," said Bailey Player, ADL Associate Development Director and the event's producer.  "She said to 'blow it up, do something different' and we achieved our goal to bring people together to celebrate joy even in the face of all the terrible things ADL deals with on a daily basis."
Those holding VIP reception tickets began the evening in 40 Below, Revention's impressive event space 40 steps below the Center's first floor. They noshed on food from Cordua Catering and enjoyed cocktails and conversation.  Then they headed up for the concert, which got underway about 8 o'clock.
It started with a funny video produced by ComedySportz Houston, a local improv troupe, Luke McKibben of Lukrative Visual Products and Bailey.   The video featured the story of ADL's Southwest Region and its work told by a group of "reporters" led by one intrepid "journalist" who idolized Colin Jost and sent his colleagues on a mission to find out how to combat all the hate in the world.
The evening was emceed by KHOU/Channel 11's Melissa Correa who introduced ComedySportz after the video.  The improv group's members created a musical on the spot using comments from ADL's 2019 Daniel R. Ginsberg Award Recipient Bethany Boucher and song titles provided by the audience.
Then it was time for Colin Jost.  He took the stage, complimenting ComedySportz on their video and performance and entertaining the audience with an amusing standup routine that covered everything from  the name of the Anti-Defamation League and the title of the Concert to plane travel and material he'd written for Saturday Night Live that didn't make the cut.
ADL is grateful to the Houston in Concert Against Hate planning committee, which included Mark Finkelstein, Sue Hauenstein, Jerry Axelrod, Cheryl Lipshutz, Rochelle Jacobson, Karen Westall, Robert Carlton, Jay Harberg, Joel Gluskin, Jake Gardner and Erica Robinson.  ADL also thanks the many sponsors for the Concert, especially Benefactor sponsor H-E-B Tournament of Champions, and Patron sponsors the Jacobson Family Foundation, Arlene and Marvin Nathan, George and Lois Stark, and Regina Rogers.
Special thanks also goes to Revention Music Center and its Director of Sales Kelley Wohlenberg, Cordua Catering and Catering Sales Manager Darla Hickman, ComedySportz and Benji Cooksey, and Lukrative Visual Products and Luke McKibben, all of whom went above and beyond the call of duty.
The audience enjoyed the concert.  ADL Board Member Janet Pozmantier said, "It was a very successful evening.  It was obvious ADL put an incredible amount of thought, time and love into planning an evening that would be fun, edgy, and entertaining.  Colin Jost was very funny and it's too bad some of those skits he proposed for SNL were rejected."
ADL Board Chair Mark Finkelstein especially was pleased:  "I am so thankful for ADL delivering a really spectacular evening to the community.  Kudos and thanks to the marvelous ADL professionals and support staff, the planning committee, the sponsors, those who secured the sponsorships, talented performers Colin Jost and Comedy Sportz, the moderator for the evening Melissa Correa, and all of our guests. I am basking in the glow of a night to celebrate."