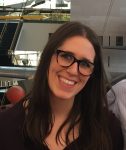 Several Houstonians and one former Houstonian will be honored at this year's National Leadership Summit (NLS), June 2-4 in Washington, D.C.   NLS will host committee meetings of ADL's National Commission, and it also is the culmination of the year's Glass Leadership Institute, during which ADL teaches and trains young leaders in programs related to ADL's mission.
Southwest Region Associate Board Member and chair of its Community Partnerships Committee Bethany Boucher is one of four young leaders across the country receiving ADL's Daniel R. Ginsberg Leadership Award.  The award recognizes outstanding young professionals for their leadership in the fight against anti-Semitism, racism and all forms of prejudice.  Bethany has ably served in several roles during her short lay leader tenure, including chair of the 2018 GLI class.  She'll receive the award during the opening plenary session of NLS on June 2.
During the afternoon plenary session June 3, Houston Police Chief Art Acevedo will receive the ADL Gorowitz Institute Service Award, for outstanding leadership in the fight against terrorism and extremism, and James Byrd, Jr.'s youngest sister, Louvon Harris, will participate with Matthew Shepard's parents Judy and Dennis Shepard in the 10th Anniversary Commemoration of the The Matthew Shepard and James Byrd, Jr. Hate Crimes Prevention Act.