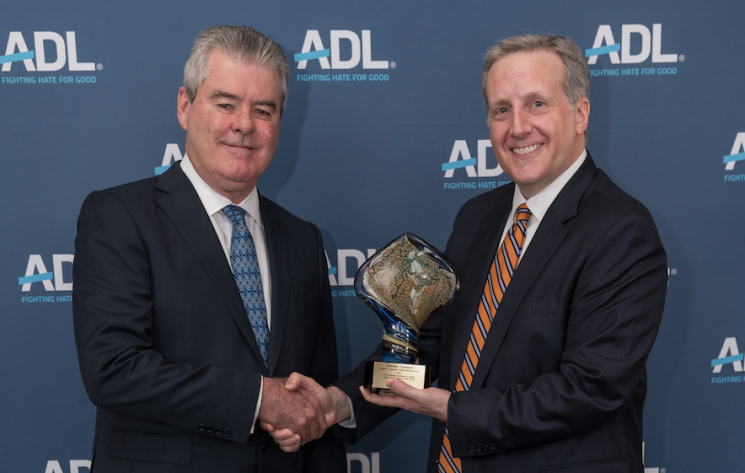 This year's Karen H. Susman Jurisprudence Luncheon brought ADL supporters together in person for the first time in nearly two years, honored Alistair Dawson of Beck Redden LLP, paid tribute to the memory of Steve Susman, and inspired attendees to support ADL and fight bias and hatred.
Over 600 people, mainly legal professionals, attended the event at the Hilton Americas Hotel, and donated nearly half-a-million dollars to ADL to support ADL programs and to honor Dawson for his dedication to legal access for all and to the community.
Highlights included a tribute to the memory of the  late Steve Susman of Susman Godfrey, L.L.P., a previous recipient of the Karen H. Susman Jurisprudence Award, longtime member of ADL's Southwest Regional Board and ADL Global Advisory Council, and husband of the Luncheon's namesake.
Dawson's friends and colleagues lauded the award recipient both on video and in person. Texas Supreme Court Justice Jane Bland told attendees "No one in the courtroom is more thoughtful or prepared," and added "access to justice for all is top of mind for Alistair."
While the tributes to Dawson and his dedication to the law and community were impressive and moving, the honoree himself provided inspiration in his acceptance speech. He spoke of how our country's Constitution was written by lawyers, and said it was up to lawyers to uphold "the fundamental tenet of our democracy: equality and justice for all." He pointed out that equality doesn't exist for many Americans, and expressed deep concerns about the rise in hate crimes in the U.S.
"As lawyers," Dawson said, "we are uniquely positioned to make this world a better place. Get involved, speak up, fight against inequality and justice."
Special thanks to the Event Chairs, Melanie Gray and Jeff Golub, and Honorary Chairs David Beck, the Honorable Jane Bland, and Honorable Susan Soussan for their help in making the luncheon a success.
ADL'S 2022 Karen H. Susman Jurisprudence Luncheon is set for May 1.