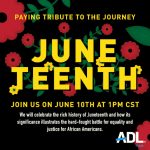 During the Civil War, President Abraham Lincoln issued the Emancipation Proclamation, which declared all enslaved persons in the Confederate States to be free. It became effective January 1, 1863, but Texas slaves were not emancipated until June 19, 1865, when Union Major General Gordon Granger read General Order No. 3 at Union Army Headquarters in Galveston. The order freed all remaining slaves in the state: about 250,000 people.
The first annual celebration of Jubilee Day, which later became known as Juneteenth, happened on June 19th, 1866 and while early commemorations helped provide instructions on how freed slaves could vote, ensuing holidays were marred by discrimination-induced limitations.
Why did it take so long for enslaved Texans to be freed? Why has Juneteeth become a national holiday for all people? How has Juneteenth been celebrated and stifled throughout history and how is it symbolic of justice delayed for African Americans then and now?
ADL Texas will explore the answers to those questions, how best to honor Juneteenth and to promote the freedom it represents with a virtual celebration at
1 p.m. Central Time June 10.
The program will feature Kelly Elaine Navies, lead curator and oral historian at the Smithsonian National Museum of African American History and Culture and former Special Collections Librarian at the Washington, D.C. Public Library.   In a discussion moderated by ADL Texoma Education Director Sherasa Thomas, Ms. Navies will talk about the history and significance of Juneteenth and how it illustrates the hard-fought battle for equality and justice for African Americans.
This webinar is supported by a diverse group of partners, demonstrating the importance of Juneteenth and its significance to all Americans. Partners include: African American Museum of Dallas, Austin Community College, Austin Area Urban League, Austin ISD , Austin ISD Cultural Proficiency and Inclusiveness, Booker T. Washington High School for the Performing and Visual Arts, BRAVE Communities, Buffalo Soldiers National Museum, Center for the Healing of Racism, Congregation Agudas Achim, Congregation Emanu El, Covenant Church, Excellence and Advancement Foundation, Galena Park ISD, Hays CISD, Holocaust Museum of Houston, Houston Area Urban League, Houston Coalition Against Hate, Houston Congregation for Reform Judaism, Huston-Tillotson University, iACT, Latino Initiatives, Juneteenth Legacy Project, Life Anew, NAACP Austin, NAACP Collin County Branch, OCA Greater Houston, Round Rock ISD, Shalom Austin, Smithsonian National Museum of African American History and Culture, Temple Beth Shalom, Texas Southern University.
To register for the webinar, click this link.
To cover the webinar or set up an interview, contact Sherasa Thomas at 214-505-6649 or sherasathomas@adl.org,