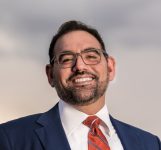 Former El Paso City Council Member and Mayor Pro-Tem Peter Svarzbein is the new El Paso Community Engagement Manager for ADL's (the Anti-Defamation League's) Southwest Region, which includes El Paso, Houston, Beaumont, Corpus Christi and the Rio Grande Valley.
As the El Paso Community Engagement Manager, Svarzbein will facilitate ADL's interactions with El Paso and other regional residents, law enforcement officials, media, educators, community and political leaders, and other social service agencies. 
"We are thrilled to welcome Peter to ADL," says ADL Southwest Regional Director Mark B. Toubin.   "El Paso's rich Jewish history, diverse population and border proximity forge a unique and important community. Peter's experience as a civic leader and native El Pasoan will be relied upon to promote ADL's mission of combating antisemitism as well as all forms of hate." 
Svarzbein's insight into El Paso' culture, developed as an artist, photographer, and curator proved helpful as he compted two terms as a member of the El Paso City Council.  Since 2016, he has served on the board of Sister Cities International, and most recently as its first Latino chairman. Peter also has served as a board member of the Jewish Community Relations Council of El Paso, the Jewish Federation of Greater El Paso and as President of the Rio Grande Council of Governments. 
"As the son of immigrants and the grandson of a Holocaust survivor, I know the sting of hate and antisemitism," Svarzbein says. "It is an honor to be part of an organization that has diligently fought hate and antisemitism for 113 years, and I will work tirelessly to achieve ADL's mission 'to stop the defamation of the Jewish people and secure justice and fair treatment for all' in El Paso, the surrounding regions, and beyond."   
For more information or to set up an interview, call Dena Marks at 832-567-8843.  To contact Peter Svarzbein, email him at psvarzbein@adl.org, or call him at 915-246-4778.