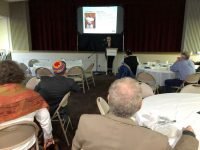 ADL Center on Extremism Senior Research Fellow Marilyn Mayo spoke to European Union Consuls General, the FBI and other law enforcement officials, ADL's board,
Glass Leadership Institute, donors and Coalition for Mutual Respect clergy while in Houston to discuss her report Hate Beyond Borders: The Internationalization of White Supremacy.
Mayo, who has been with ADL for almost 25 years, is an expert on right-wing extremists in the United States and Europe, ranging from white supremacists to academic racists to anti-immigrant groups.  In her two-and-a-half days here, she briefed over a hundred people on the spread of white supremacy across oceans, countries and continents.
In addition to communicating and encouraging each other online, Mayo said, white supremacists are networking in person—traveling to Europe and other continents—to share ideas and strategies.
Mayo said there were two types of extremists meeting across borders: idealogues, who weren't prone to violence themselves, but who promoted violence in some cases, and more violent extremists who commit violent acts or belong to groups connected to violence.  Among the latter is Atomwaffen, whose leader, John Cameron Denton, is from Houston and was arrested recently with several other members of the group just outside of Houston.
Mayo also mentioned that leaders of Patriot Front, a group based in Texas and very active in the Houston area, had been to Poland and Lithuania.
Many of the extremists connecting globally are concerned about "the great replacement," Mayo told various groups.  Some of those include Robert Bowers, who allegedly killed 11 Jews at a Pittsburgh synagogue, Brenton Tarrant, who allegedly murdered 51 people at New Zealand mosques, and John Earnest, who allegedly killed a synagogue worshiper in Poway, California.
Mayo said Earnest, in particular, was radicalized by online propaganda.  Before the Poway murder, he had no ties to white supremacy, and his family completely taken aback by what he had allegedly done.
Mayo also mentioned Patrick Crusius, accused of opening fire in an El Paso Walmart and killing 22 people.  He posted an anti-immigrant manifesto, in which he claimed to have been inspired by Tarrant.
Mayo said the report contains recommendations to combat the global spread of white supremacy.  She said there needs to be "more communication between countries and law enforcement officials, and more training for law enforcement agencies" so that officers can recognize and respond to threats.
Additionally, she said ADL is working with tech companies, and others can do so, also, to have them reduce and limit extremist content.  And above all, Mayo said, "speak out.  Leadership makes a big difference" in the fight against hate.