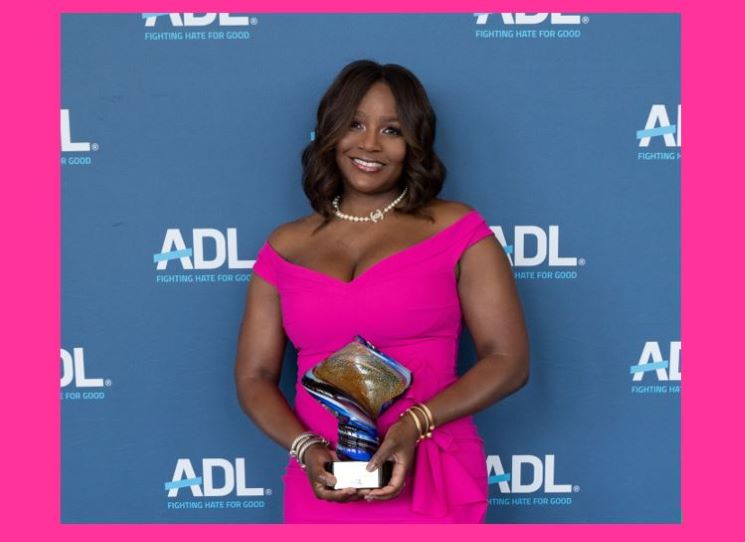 More than 500 people were on hand at the Hilton Americas Houston on May 10 as Shauna Johnson Clark of Norton Rose Fulbright received ADL's 2022 Karen H. Susman Jurisprudence Award. The award is given annually to an outstanding member of the legal community who exhibits an exceptional commitment to equality, justice, fairness and community service, and is named after the late Karen H. Susman, an ADL board chair who exemplified that commitment both in the legal and greater Houston community.
Ms. Clark is Norton Rose Fulbright's Global and US Chair, as well as its Head of Employment and Labor. In addition to providing strategic advice to clients on best employment practices and conducting management and employee training for clients, she also counsels clients seeking to establish or update their diversity and inclusion programs.
She offers continuous pro bono legal services to non-profit organizations, mainly those focusing on women's healthcare. She is the first Black woman to chair a global corporate law firm.
In her award acceptance speech, Ms. Clark moved the crowd with her personal story. Raised by a hardworking single mother who modeled a strong work ethic and the importance of helping others, she worked many part-time jobs before becoming a lawyer.  She told attendees "I've spent well over half my life in the margins," and went on to recount an unforgettable experience she had as a young lawyer, when two managers of a company where she was doing a race discrimination audit took her to lunch to discuss her initial findings.  They went to a restaurant that was a converted slave quarter, replete with remnants of slavery, including chains, collars, and tools.   Ms. Clark was horrified.
"Of course, I didn't eat, imagining people like me being treated as animals," she said. But when her partner asked her about the audit, she didn't tell him about the restaurant. After being haunted by the experience for fifteen years, she finally told her partner, who was appalled and disappointed he couldn't fix the situation. She said that experience and witnessing her partner's disappointment and concern helped her find "the courage to speak up and speak out; to call out discrimination and unfairness when I see it. And ironically, my willingness to do so—objectively and without partiality—is what my colleagues and clients appreciate the most."
Ms. Clark encouraged attendees to do the same, and to support ADL's work, to speak out against hate and help ADL educate those who don't yet understand hate's indelible sting. She thanked ADL "for seeing me, for hearing me, for allowing me this opportunity to be a voice for those who remain in the margins."
The Karen H. Susman Jurisprudence Award Luncheon raised over $300,000 to support work in ADL's Southwest Region.  For more information, contact Dena Marks at dmarks@adl.org or 832-567-8843.  To donate to ADL, contact Mary Gentry-Roberts at mgentryroberts@adl.org.
Watch a video of the event here.