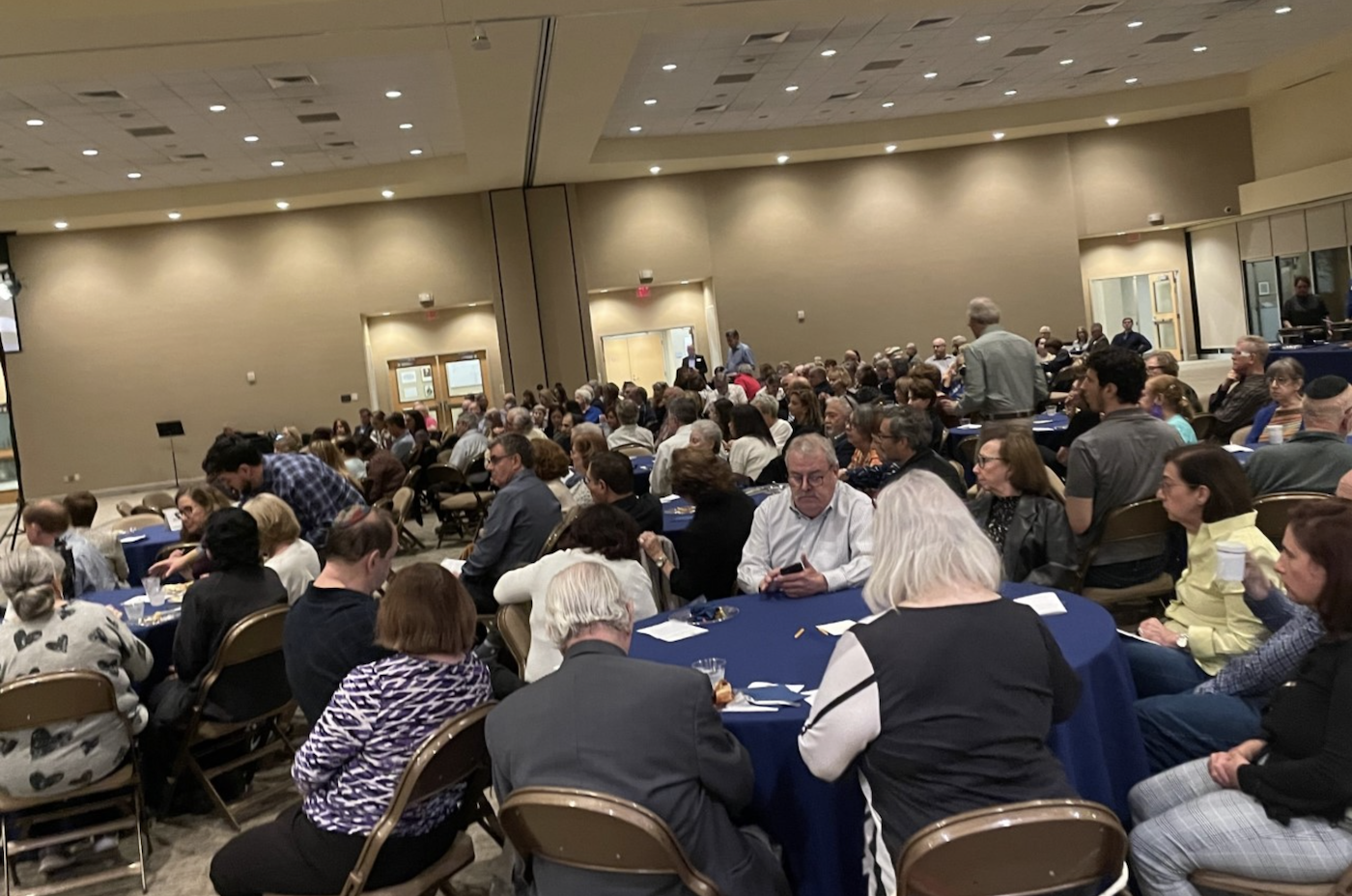 Nearly 230 people attended Congregation Beth Israel Houston's and ADL Southwest's All of us (KULANU!) Fighting Antisemitism seminar December 8, which provided the latest information regarding antisemitic attacks, helped participants understand the importance of fighting antisemitism, and empowered them to recognize and respond to anti-Jewish hate.
Participants gathered in Beth Israel's Wolff-Toomim Hall to hear a moving keynote address from ADL Central Division Vice President Cheryl Drazin, introduced by ADL Southwest Board Chair Karen Westall.  Cheryl was on the ground in Colleyville, Texas January 15, 2022, when a gunman held congregants of Colleyville's Beth Israel Synagoge hostage for 11 hours.  Cheryl began her insider account of what happened in Colleyville with a brief backgrounder on ADL and antisemitism in general, then inspired the audience with a stirring account of what happened on that day, how ADL participated in the response, and how the ordeal affected her.
A panel featuring targets of antisemitism moderated by ADL Southwest Regional Director Mark Toubin followed Cheryl's speech, and included renowned vaccine researcher and creator Dr. Peter Hotez talking about how antisemites have attacked him and his work; Eliana Antonoff and her father Michael giving their account of how they responded when a teacher in Eliana's school presented an antisemitic lesson in her class; and The Shlenker School's Director of Admissions and Development Tara Gassett speaking about antisemitic fliers peppering her neighborhood and how she responded.
After the panel, participants went to one of four breakout sessions designed to empower them to take action against antisemitism. Gittel Francis, LMSW explained how she counsels victims of antisemitism in her session; Rabbi Kenny Weiss, Executive Director of Houston Hillel helped participants understand how to respond to anti-Jewish hate on college campuses; ADL Senior Associate Director Dena Marks illustrated how antisemites are promoting an old hatred in news ways and gave tips on how to react productively; and ADL Education Director Dr. Chantel L. Henderson and facilitator Randi Sonenshein provided lessons on how K-12 students can recognize and respond to antisemitism.  Scott Cantor, a participant in the K-12 workshop said: "The workshop was well done and practical. Real-life examples of antisemitism children experience pushed us to get realistic about how to respond to such situations."
Congregation Beth Israel Rabbi David Lyon book-ended the evening by beginning the event with a warm welcome for participants, and ending with a call to action, citing a famous quote from Micah: "Do justly, love mercy, and walk humbly with your G-d." Rabbi Lyon told the audience they must not sit by and ignore antisemitisim. "We must do… we must respond with love…. And we must walk" toward responses and solutions, he said, because if we don't, antisemitism will continue to grow.
Southwest Regional Director Toubin thought the event achieved its purpose: "The evening was a perfect example of how ADL's Kulanu program should work. Kulanu means "all of us," in Hebrew and it helps congregations address antisemitism in their communities.  As a result of our partnership with Beth Israel, nearly 230 people now have the tools to better understand and respond to antisemitism."
For more information on Kulanu or ADL, contact Dena Marks at dmarks@adl.org.