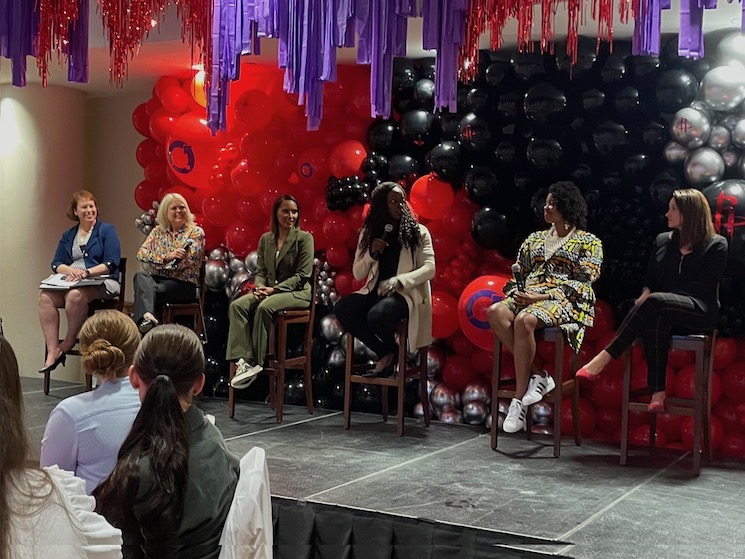 Over 100 people attended Power Forward: Women Changing the Game, a partnership of ADL Southwest's Women's Initiative and the Houston Rockets to commemorate International Women's Day.
The informative, inspirational event on March 7 at the Rockets/Nets game included a lively panel discussion before the game and the opportunity to enjoy the game from the Sire Spirits Social Club at the Toyota Center.
Panelists included Houston Rockets President of Business Operations Gretchen Sheirr, Premium Goods Founder and Owner Jennifer Ford, Houston Freedmen's Town Conservancy Executive Zion Escobar, First Court of Appeals Justice and ADL Board Member Sara Beth (Sorcha) Landau, PNC Bank Regional President Julie Sudduth, and Houston Exponential CEO Natara Holloway Branch.
The panel's expert moderator, Vanessa Richardson, sideline reporter for Houston Rockets Broadcasts and pre-and-post-game host for Houston Astros broadcasts, asked the women to share their thoughts on many issues related to their success, including:
What are the benefits of having women at the leadership table?
How can we continue to be innovative?
What is your leadership style? And
How do you balance your career and personal life?
Each of the panelists gave insightful answers.  One said that the benefit of having women at the leadership table is more holistic and comprehensive products, and more sensitive and intuitive designs.  Most of the panelists agreed that they continue to be innovative by mentoring people, and by being inclusive. "I look around the table and think, who's not here who should be here," Landau said.
As far as leadership styles, Suddeth explained, "Command and control does not work in today's world.  We're successful by bringing out the best in everybody.  I try to be very open, very collaborative, and pay attention to the least heard people at the table."
Most panelists agreed balancing their careers and personal life was hard.  Branch said she went to a family event and a nine-year-old cousin didn't mince words about her life choices.  "He told me, 'You're a loser!  You don't have kids!'"  Instead of striving for balance they stressed the importance of doing what was meaningful to them.  Sheirr said, "You just have one life.  You just get once chance, and everyone has to make their own decision" about what's best for them.
The audience was buzzing after the panel as they went to the Sire Spirits Social Club to watch the game.  Unfortunately, the Rockets lost to the Nets, but participants in​ Power Forward, Women Changing the Game were winners, because they left inspired, informed, and empowered to continue in their journeys toward success.