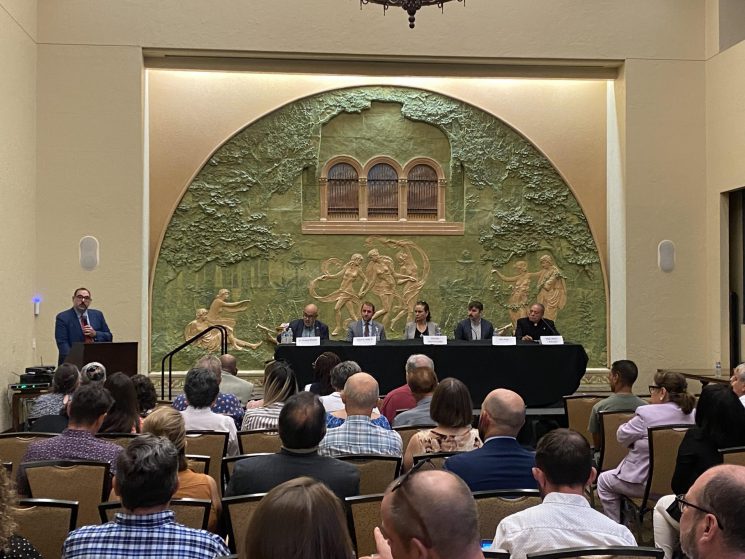 Thursday, August 3 marked 4 years since Patrick Crusius entered a Walmart store in El Paso and opened fire, killing 23 people. Just before he committed his crime, he posted a white supremacist manifesto, in which he railed against immigrants and talked about an urgent need to take action against them.
While trying to make sense of what Crusius did won't bring back the 23 people he gunned down, it can help us understand what's behind white supremacist violence and perhaps help us prevent future horrific attacks. With that in mind, Southwest Region El Paso Community Engagement Manager Peter Svarzbein put together a panel discussion entitled "The Pipeline of Extremism," earlier this week. Moderated by KVIA news anchor Stephanie Valle, the panel included ADL Center on Extremism Investigative Researcher Ben Popp,  FBI Supervisory Special Agent Albert C. Kelly III; FBI Outreach Specialist Griselda Lino-Fernandez; Msgr. Arturo Banuelas, Founder of the Hope Border Institute; and Dr. Richard Pineda, Director of the Sam Donaldson Center for Communications Studies at the University of Texas at El Paso (UTEP).
The panelists talked about how various factors lead to the radicalization of individuals vulnerable to white supremacist ideologies, and how a feeling of urgency and disenfranchisement leads some of them to commit violence.
"The attack was part of what we call the accelerationist movement," Popp said, explaining that a growing number of white nationalists believe the United States is beyond saving from the encroachment of non-whites and has to be torn down to construct a "new white ethno-state."
Others on the panel spoke to the mainstreaming of political rhetoric that falsely claims immigrants are "invading" our country and taking away jobs from residents, committing crimes and spreading illness, and also to the ease of spreading such messages through social media.
Lino-Fernandez told attendees, "This radicalization is happening within your own homes.  It's happening more and more because of technology, especially social media."
ADL Community Engagement Manager Svarzbein offered a call to action:  "Let us embark on this journey of understanding and healing together.  As we remember the lives lost, let us also pledge to work hand-in-hand to create a future where hatred and violence find no place and understand that bad things happen when good people stay silent against words of hate, antisemitism, racism, and xenophobia."