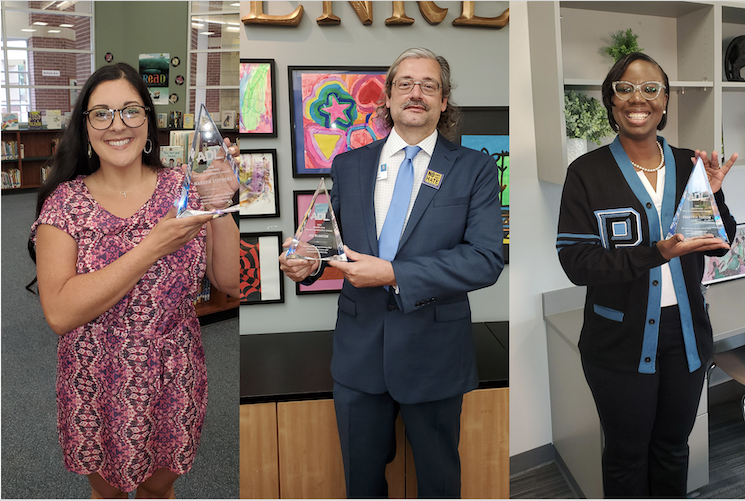 ADL's Southwest Region honored three Houston-area educators with the Walter Kase Educator Excellence Award at the region's May 4 board meeting. The recipients were selected for the award based on their years of service as a No Place for Hate® coordinator and the leadership they exemplify on their campuses. They included Counselor Marilyn Stephens, M. Ed. from Bess Campbell Elementary School in the Lamar Consolidated Independent School District (ISD), Science Specialist Joe Blanton from The Shlenker School, a private school in Houston, and Counselor Charvela Fearon, M.A., LPC-Associate from Paetow High School in the Katy ISD.
ADL Education Director Dr. Chantel L. Henderson said Ms. Stephens has served for seven years as a No Place for Hate coordinator on her campus.  Dr. Henderson said Ms. Stephens' "compassion for all student learners is infectious because the school community comes together when she proposes an activity."
Ms. Stephens said her favorite activity involved learning about disabilities during DisABILITIES Awareness week.  The students listened to a reading of U.S. Supreme Court Justice Sonia Sotomayor's book book Just Ask, found out about the disabilities of students at the school, and created a paper flower or plant in their art classes that represented themselves and their uniqueness, but also the similarities between them.
Joe Blanton has been the No Place for Hate Coordinator at The Shlenker School for four years, where he "has a unique ability," Dr. Henderson says, "to thread curriculum and real-world applications to ensure students receive a well-rounded educational experience."
He says one of his favorite No Place for Hate activities is "When I Grow Up."  It examines gender bias and the way it affects people, the professions they choose, and their advancement in those professions.  He says students read the book Mo'Ne Davis and Gender Stereotypes, which helped them understand that only until recently it was common for people to be told what sports they could pursue based strictly on their gender, and gave them a chance to express themselves on how unfair they thought that was.
Charvela Fearon has served as No Place for Hate Coordinator at Paetow High School for ten years.  Dr. Henderson says she received the award because "she acknowledges the importance of diversity and inclusion" in her daily work.
Ms. Fearon chose Anti-Bullying: Be the Ally: Six Simple Ways as her favorite activity.  It gives students a deep understanding of ADL's Pyramid of Hate, which shows how hate starts with words and if not confronted there, elevates up the pyramid to discrimination, to violent acts of bias, finally ending in genocide if not stopped at a lower level.  Students were asked to create a personal hashtag that described their uniqueness or an idea they had about confronting hate and then shared their positive reflections through social media, verbal conversations and written works.
ADL's No Place for Hate program is a self-directed program helping all members of the school community, including students, educators and family members work together to combat bias and bullying as a means to stop the escalation of hate.
The Walter Kase Educator Excellence Awards are given every year to educators who exemplify and advance the mission of ADL's No Place for Hate program.  The Awards are named after the late Walter Kase, who was an ADL board member and Holocaust Survivor who dedicated the last several decades of his life to telling his Holocaust story, and using it to teach students how hate destroys, and love builds.
You can see more about the educators, hear students talk about why they deserve the Walter Kase Educator Excellence Award, and learn more about Walter Kase from his wife, Chris Kase, in this video.