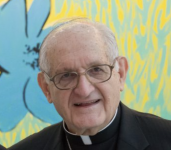 ADL Southwest is deeply saddened by the passing of Archbishop Joseph Fiorenza, a longtime friend of ADL, and a tireless advocate for civil and human rights.
Archbishop Fiorenza marched with Dr. Martin Luther King, Jr. in 1965 in Selma, Alabama, and from that moment on, he never stopped marching toward love and challenging hate. He was an original member of ADL's Coalition for Mutual Respect, a group of clergy and community leaders founded in 1995 to speak out in a unified voice against bias, bigotry, and discrimination.
Through the years, the Coalition also developed into a vehicle to educate clergy and their congregations and increase interfaith understanding.
Archbishop Fiorenza and two other founding members of ADL's Coalition for Mutual Respect, Rabbi Samuel Karff, of blessed memory, and Reverend William A. Lawson, were known as The Three Amigos: religious leaders and close friends who worked together for social justice and collaborated on their efforts to make Houston and the world a better place.
We will miss Archbishop Fiorenza and his gentle insight, guidance, and activism.  Our condolences to the Archdiocese of Galveston-Houston, and all who knew and loved our dear friend. May his memory be a blessing. 
For more information or to set up an interview, contact Dena Marks at 832-567-8843.