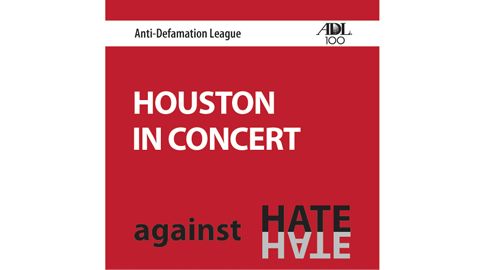 The Anti-Defamation League (ADL) will present Houston In Concert Against Hate featuring the Houston Symphony and Emmy Award-winning actress Alfre Woodard at 8 p.m.Thursday, November 14th.
The Concert, conducted by Robert Franz, will be an inspirational, musical evening telling the stories of heroes and icons who have courageously stood up for respect and against hate, bigotry and extremism in our community. The stories will be narrated by Ms. Woodard and interwoven with music performed by the Symphony. They will honor the history and legacy of ADL's 100 years of work and celebrate ADL's commitment to combatting hatred in all forms.
At a dinner prior to the Concert, ADL also will present its top award–the Centennial Award–to Houston attorney and lifelong civil rights champion Marvin D. Nathan for his contributions in fighting anti-Semitism, racism and discrimination, and fighting for religious freedom for all.
Houston-area heroes being recognized during the concert represent four themes:
For promoting civil rights for all, we are honoring Archbishop Joseph Fiorenza, Rabbi Samuel Karff, and the Rev. William A. Lawson.
For challenging hate and bigotry, we are recognizing the Honorable Texas Senator Rodney Ellis,  The Honorable Texas Representative Senfronia Thompson and the family of James Byrd, Jr., including his children Renee, Jamie and Ross. 
For fighting anti-Semitism, we are honoring Houston Holocaust survivors, represented by Celina Fein, Walter Kase, Bill Morgan, and Naomi Warren.
And for encouraging inclusive and welcoming education for all, we are honoring Esther Campos, Michael Feinberg, Dr. Thomas Freeman, and Carol Shattuck.
"All who will be recognized during this special concert and ceremony have dedicated their lives to making Houston, Texas, this nation and our world inclusive, respectful, and rich in diversity," said Martin B. Cominsky, ADL Southwest Regional Director.  "Each individual has fought hatred for many years, just as ADL has," he added.  "Their commitment to justice and fair treatment for all is nothing short of legendary."
Houston in Concert Against Hate commemorates ADL's Centennial as well as the Centennial of the Houston Symphony.
Proceeds from this event will enable ADL to continue the wide range of programs and services that address the root causes of hatred and bigotry. For 100 years, the Anti-Defamation League has been a force for change, a champion of our nation's values and a shield against hate and extremism. Our  mission: to stop the defamation of the Jewish people and secure justice and fair treatment for all.
The event is underwritten in part by the law firm of Nathan Somers Jacobs.
.
For sponsorship and ticket information, go to www.adl.org/houstoninconcert.