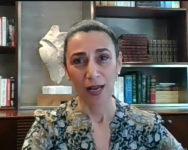 ADL's Senior Vice President of International Affairs, Sharon Nazarian, spoke before the World Affairs Council of Greater Houston March 4.   Part of her job is monitoring and countering global antisemitism, so she was well-positioned to talk about why it seems to be on the rise around the world, and what ADL is doing to prevent it and combat it.
She demonstrated an encyclopedic knowledge of ADL issues and programs, and spoke about many of them, both domestic and international.
To demonstrate the pervasiveness of global antisemitism, she showed participants results from the ADL Global 100, a survey of antisemitic attitudes in more than 100 countries. Some of the results were shocking and frightening. For instance, the most recent version of the survey found that 42% of Hungarians and 48% of Poles harbor antisemitic attitudes.
She also spoke about a rise in international extremism, and gave three reasons for that rise:
Mass migrations of groups of people lead to xenophobia
Mainstreaming of extremist and ultranationalist political views
And the impact of technology and social media as a megaphone for hate
As she answered questions by World Affairs Council Program Director Ronan O'Malley, she touched on many more topics related to antisemitism, extremism and what ADL is doing about them both at home and abroad. You can watch her entire World Affairs Council session here.