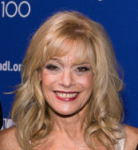 ADL's Southwest Region presented former board chair and longtime board member Sherry Bender Levy with its Milton S. Popkin Award at the Southwest Region's December 2020 board meeting.
The Popkin Award was established by the family of Milton S. Popkin to honor his memory.   Popkin served as chair of ADL's board from 1969-70 and also was an ADL National Commissioner. He owned a successful outdoor advertising company, and often used his billboards to promote causes in which he believed, including those connected with ADL.
The award recipient is chosen by former board chairs, and is presented every year to a person, persons, or organization making a unique contribution toward furthering the mission of ADL and promoting intergroup relations. Milton Popkin's grandson, Jonathan Paine, introduced and gave a history of the award.
2020 Board Chair Nicole Nathan Gibson nominated Levy for the award, and said she did so because "I feel like Sherry has been on the forefront of identifying what's in ADL's future. She has a vision that has pushed us outside of conventional thinking and outside of conventional programs, and the result is greater outreach into the community and new partners and new friends brought into ADL."
Gibson cited Levy's roles in creating ADL's Women's Initiative, which not only has attracted new leadership but has led to an ongoing partnership with the Ensemble Theatre. Levy also was instrumental in transitioning the agency's annual fundraiser from the Torch of Liberty Dinner to Houston In Concert Against Hate. "She's fearless, so she inspires others to be fearless, and with bold action comes greater impact and opportunity," Gibson said.
Levy followed in her mother's footsteps. The late Sophie Bender was an ADL board chair and Levy was chair in 1999.   She also has served, and continues to serve as an ADL National Commissioner.
She and her husband Ken Levy own Dimensions boutique, which keeps her very busy, but she still finds time for ADL and is passionate about ADL's mission: "to stop the defamation of the Jewish people and secure fair treatment and justice for all."
In a moving speech Levy gave accepting the award, she said she was "shocked" to receive it, because she's always open and direct about what she believes.   But she says "the Anti-Defamation League is the only place I've ever wanted to be. Fighting antisemitism is important, but for me, the work we do with marginalized communities is what has driven me, because witnessing racism was part of my childhood." That drive to help vulnerable communities still spurs her on after all these years. She told ADL's board: "I continue to ask myself: 'Have I done enough? Have we done enough? Will it ever be enough?'" 
ADL Southwest Regional Director Mark Toubin is glad Sherry continues to fight. "There are few people more passionate about ADL's mission than Sherry Levy," he said. "You can hear it in her voice when she speaks about ADL, but Sherry doesn't just talk the talk. She constantly brings us new ideas and encourages us to do better and do more. She truly deserves to be recognized for her energy, her enthusiasm, and her dedication to ADL."