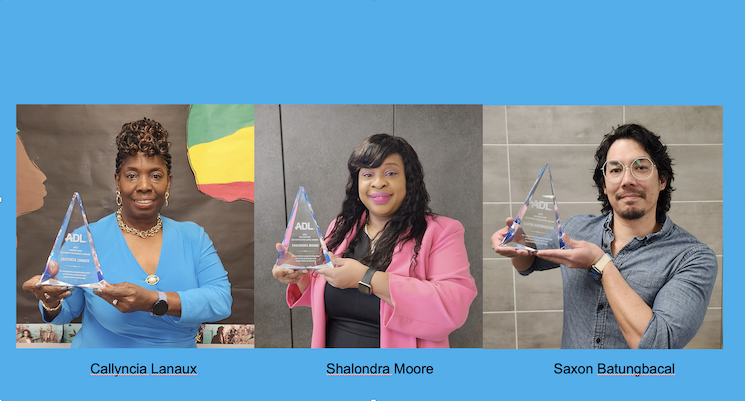 ADL's Southwest Region honored three Houston-area counselors with the Walter Kase Educator Excellence Award at its board meeting May 10.  The recipients were selected for the award based on their years of service as a No Place for Hate® Coordinator and the leadership they exemplify on their campuses.
Two of the counselors receiving the award were from elementary schools: Callyncia Lanaux of Helen Major Elementary School in the Spring Independent School District, and Shalondra Moore of Ralph G. Goodman Elementary School in the Aldine Independent School District.
The third recipient, Saxon Batungbacal, is a counselor at Guy M. Sconzo Early College High School in the Humble Independent School District.
The important work of the counselors was featured in a video at the board meeting, which also featured tributes to Walter Kase from his friend, Holocaust Museum Houston docent Sandy Lessig, and a very sweet tribute from his grandson, Daniel Dozark.
"It is an honor to present the Walter Kase Educator Excellence Award to these dedicated counselors, who have worked so hard to make their campuses, warm, welcoming, and inclusive for all people," says ADL Education Director Dr. Chantel L. Henderson, Ed.D.  "We know their commitment to fighting hate and promoting respect is multiplied by the hundreds of students they have touched, and the many people those students touch, as well."