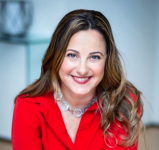 Israel's new Consul General to the Southwest, the honorable Livia Link-Raviv, introduced herself to ADL Board Members at the September 2021 meeting, and provided a short briefing on the latest from Israel.
Consul Link-Raviv told ADL's board her family immigrated from Romania to Israel when she was very young, and her government service was her way of giving back to her adopted home country. She said she, her husband, and her three children arrived in Houston in August, and this was her first post in the United States.
Her mission, she said, was to represent Israel and the Jewish people and to help strengthen the relationship between the U.S. and Israel.
She said the relationship between the two countries was strengthened by the August 27 meeting between Biden and Bennett, and explained her Prime Minister "felt good about the U.S. commitment to Israeli security," and Biden's understanding of Israel's concerns about Iran.
The Consul General thanked ADL "for the amazing and important work you are doing," and told board members "Please consider me and the consulate as your partner."