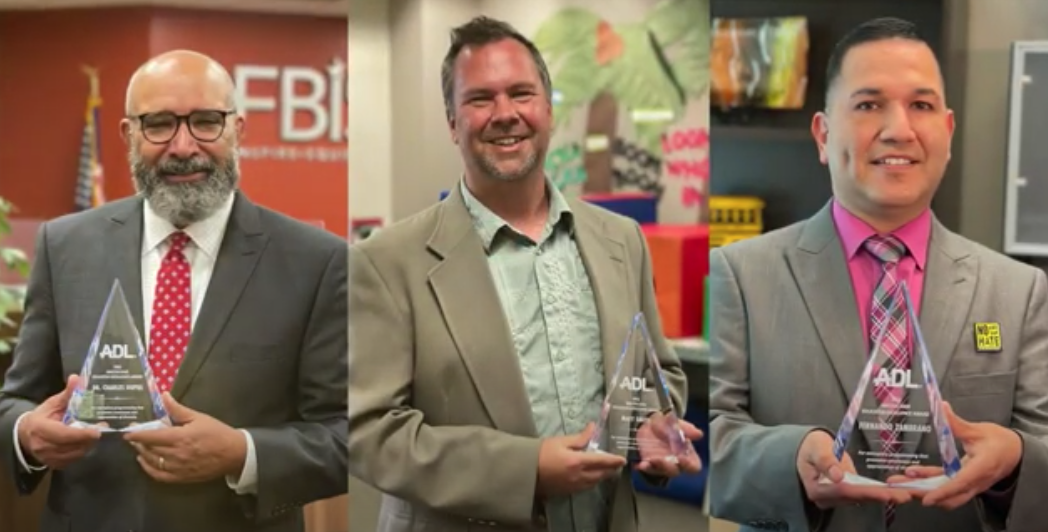 ADL's Southwest Region celebrated 20 years of No Place for Hate® and the recipients of the Walter Kase Educator Excellence Awards during a special program May 12.  No Place for Hate began in Southwest Region with nine schools in 2001.
In the 20 years since 2001, it has grown to hundreds of participating campuses each year, and has touched tens of thousands of students, educators, and family members.
"I'm so proud of the hundreds of schools that have chosen to participate in the No Place for Hate Initiative in the last 20 years," said Southwest Region Education Director Susan Shaw. "Even during a pandemic, schools have remained committed to creating safe and respectful school communities," she added.
The May 12 celebration was emceed by 2018 Walter Kase Educator Excellence Award Recipient and Professional Guidance Counselor Na'Teasel Davis.
It included words from Spring Branch ISD Professional Guidance Counselor Lynne Luberger, who was counselor at Hunter's Creek Elementary School when No Place for Hate started. Hunter's Creek is the only campus that has achieved a No Place for Hate designation every year since the initiative began.
After marking the No Place for Hate anniversary, the Southwest Region honored Walter Kase Educator Excellence Award recipients Dr. Charles Dupre; Superintendent of the Fort Bend ISD; Matt Smith, Coordinator of Elementary Counseling and Behavioral Services in the Humble ISD; and Fernando Zambrano, Assistant Director, Human Resources of the Cypress Fairbanks ISD's Transportation Department. They received the award for their outstanding efforts to create an atmosphere in their school communities that rejects prejudice and promotes respect and diversity.
Dupre was one of the first school superintendents in Region IV to encourage all of his district's schools to participate in No Place for Hate.
Smith has striven to have every elementary campus in Humble ISD participate in No Place for Hate and has provided ADL curriculum and resources to his counselors on a consistent basis.
Zambrano put No Place for Hate into Cy-Fair ISD's school buses, an innovation that literally made the buses vehicles for fighting bias and promoting diversity.
"We are so proud of our 2021 Walter Kase Educator Excellence Award recipients," said ADL Southwest Regional Director Mark B. Toubin. "We named the award after Walter, a beloved Holocausts survivor who dedicated the latter part of his life to telling students about the destructive power of hate and the restorative power of love.  It is fitting that these three men receive an award in his name for their comprehensive, innovative approaches to No Place for Hate."
All three recipients gave moving, personal acceptance speeches. If you missed the festivities, you may watch them here.