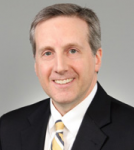 Mark R. Trachtenberg became chair of ADL's Southwest Regional Board January 1. A partner at Haynes and Boone, LLP, Mark has been a longtime, outstanding member of ADL's board serving as chair of its Civil Rights Committee, Vice Chair of its board, and author of several amicus briefs filed by ADL on issues important to the agency.
Mark told ADL's board in December of 2020 his interest in ADL was sparked partly by his family's history, including his grandmother's escape from Warsaw in 1938, one year before Germany invaded Poland, and the deaths of several family members at the hands of the Nazis. He also said he was inspired by the work of his parents, Dan and Ellen Trachtenberg, with organizations such as Jewish Family Service and Holocaust Museum Houston.
"Mark Trachtenberg is committed to the mission of ADL-'to stop the defamation of the Jewish people, and to secure justice and fair treatment for all,'" said Mark B. Toubin, ADL Southwest Regional Director. "He has proven that through years of dedicated service, and he has hit the ground running as board chair, facing enormous challenges already in the first two weeks of the year. We appreciate his leadership and wise counsel, and I know he will be an integral part of everything we do this year."
Mark practices appellate law and is extremely well-respected in the legal community, having been named one of the Best Lawyers in America, one of the Top 100 Lawyers in Texas and a Texas Super Lawyer.
He has served on the board of Houston Volunteer Lawyers and the Education Council of the United Way of Greater Houston.