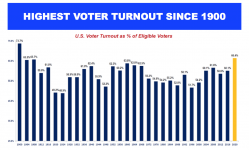 The Southwest Region partnered with the Religious Action Center of Reform Judaism (RAC) February 1 to present "Voting Rights in Texas: Part II," the second part of a series featuring Dr. Bob Stein, Lena Gohlman Fox Professor of Political Science at Rice University, Faculty Director of the Center for Civic Engagement, Fellow in Urban Politics at the Baker Institute for Public Policy and former Dean of the School of Social Sciences.
Dr. Stein analyzed the 2020 election in Harris County and Texas, and helped participants in the webinar understand the record turnout, what the election meant in political terms, how the results and recent events might effect future elections, and election integrity issues.
Among the most startling statistics from Dr. Stein's presentation: you'd have to go back to the year 1900 to find turnout higher than turnout in 2020. In 2020, 66.4% of the electorate voted. Among Dr. Stein's other findings:
The 2020 election did not result in much change (as far as the parties in office) overall
2020 election spending totaled 13.9 billion dollars
Half of eligible voters voted by mail
Dr. Stein said there were bills coming up in the Texas legislative session that would try to further restrict voter opportunity, and that redistricting could result in some changes.
The session was moderated by RAC Texas Organizer Rabbi David Segal and ADL Southwest Regional Director Mark B. Toubin, who said there was so much to talk about regarding voting and voting rights, there might be a third webinar in the series.   Stay tuned!