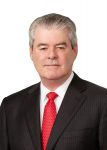 ADL's (The Anti-Defamation League's) Southwest Region will present its 2021 Karen H. Susman Jurisprudence Award to Alistair B. Dawson, Partner at Beck Redden LLP.
The Award is presented annually to an outstanding member of the legal community who exhibits an exceptional commitment to equality, justice, fairness and community service. It will be presented to Dawson at noon, October 20 at the Karen H. Susman Jurisprudence Award luncheon at the Hilton Americas Houston, 1600 Lamar Street, Houston, TX 77010.
Dawson, a partner at Beck Redden LLP, is an acclaimed trial lawyer for the firm and a very active supporter of the legal community and the greater Houston community.
"Alistair Dawson is such an appropriate recipient of the Karen H. Susman Jurisprudence Award," said ADL Southwest Regional Director Mark B. Toubin. "He embodies all the qualities for which the award is given: the qualities for which the award's namesake, the late Karen H. Susman, also was known and revered."
Dawson works tirelessly to better Houston, the state of Texas, and their legal communities. He was President of the Houston Bar Association during Hurricane Harvey and helped mobilize lawyers to provide much-needed legal help for victims of the storm. He has served as Chair of the Texas Bar Foundation Fellows, which is responsible for more than 1-million dollars in grants to charities across Texas. He also is serving as a Commissioner on the Texas Equal Access to Justice Commission, which addresses the legal needs of Texans who might not always be able to pay for legal help.
He has been recognized by Best Lawyers in America for commercial litigation, as a Local Litigation Star by Benchmark Litigation, and by Chambers USA as a leading trial lawyer in Texas. He also was a 2020 finalist for Texas Lawyer's Attorney of the Year.
For more information about the Karen H. Susman Jurisprudence Luncheon, contact Bailey Player at bplayer@adl.org. To set up coverage or an interview, call Dena Marks at 832-567-8843.