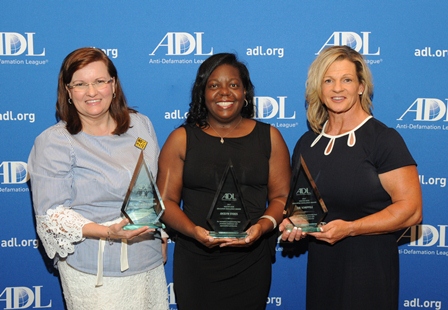 Three Houston-area educators received accolades and the Walter Kase Teacher Excellence Award at ADL's No Place for Hate® luncheon.   The Award, named after revered Holocaust survivor Walter Kase, is presented annually to three educators for their outstanding efforts to create a school atmosphere that promotes respect for and understanding of diversity.
Recipients of the Award included English Teacher Mary Catherine Watson of Ben Franklin Terry High School in the Lamar Consolidated Independent School District, Counselor Jocelyn Stokes of Joseph S. Beneke Elementary School in the Spring Branch Independent School District, and Physical Education Teacher Sue Scheppele of Wharton PK-8 Dual Language Academy in the Houston Independent School District.
Mary Catherine Watson received the Award from two of her students, Destiny Dawson and Trenece Williams. As she accepted it, Watson said, "the work we do in our No Place for Hate® program is especially meaningful because it gives us an opportunity to challenge the thinking of today's youth: builid a foundation of love and trust; tap into the consciousness of the future on an exponential scale, and squash hatred in its tracks."
Student Keenah Nash presented the Award to Jocelyn Stokes, who told the crowd, "Students are innocent and blind to hate, so we at Beneke foster love, acceptance, and No Place for Hate®. I am pleased and excited as the program has had a positive influence on the students.  As the counselor, I love what I do… Beneky is tryly a No Place for Hate® school."
Sue Scheppele received the Award from her student Rosangelica Decou.  In her acceptance speech, she asked, "How can we best prepare children to meet the challenges and reap the benefits of the increasingly diverse world they will inherit?  We can raise and educate children to value diversity and to be proud of themselves and their family traditions.  We can teach children to respect and value people regardless of the color of their skin, their physical abilities, or the language they speak."
Luncheon attendees also heard from author and actress Sonia Manzano, who for many years played Maria on Sesame Street.  Manzano spoke about how surprised she was to see an African American couple on Sesame Street.  "In 1969, you never saw people of color on television, and if you did, they certainly weren't the nice couple I saw in Susan and Gordon."  Sesame Street helped her believe that she could do something other than be the secretary she originally aspired to be, and she eventually became a writer for the program, then one of its human characters.
Manzano regaled the crowd with humorous and touching stories about the program and the effect it had her and so many others.   She also congratulated the educators  and ADL and spoke about what they were doing to make the world a better place.
"Having this luncheon is certainly getting us closer to the society that we all desire.  Once again, I applaud the educators who have done such good work here," she said.
The luncheon was co-chairs by Scott Jacobson, and his mother Rochelle, who served as one of the emcees.  ADL Education Committee Chair Nicole Gibson also served as an emcee, introducing the educators and their student presenters.
The Water Kase Award honors the memory of Walter Kase, who dedicated much of his life to teaching the lessons of the Holocaust to thousands of students, who learned from him how much hate can hurt, and how love can build, rebuild, and repair.
The luncheon was closed by ADL Regional Director Dayan Gross, who asked luncheon attendees to join him in ADL's "audacious" goal of imagining and achieving a world without hate.