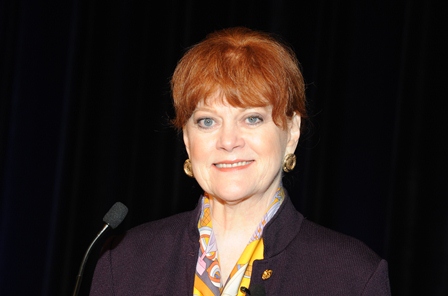 Nearly 600 members of Houston's legal community turned out to honor attorney Diana E. Marshall with the Anti-Defamation League's 2017 Karen H. Susman Jurisprudence Award.  The award goes annually to an outstanding member of the legal community who exhibits an exceptional commitment to equality, justice, fairness and community service.
Since childhood, Marshall has worked diligently for social justice, and to create opportunities and further the careers of women and minorities.  Her former law partner and Houston City Attorney Ron Lewis told the luncheon crowd Marshall was offended by a large sign in her hometown  created for a visit and march by Dr. Martin Luther King, Jr.  It read: "Martin Luther King is a communist."   Lewis said, "Diana, unable to tolerate the idea that such invective should tarnish the moment, took matters into her own hand.  She commandeered co-conspirators of age to drive the necessary equipment to access the sign and retooled the message: 'Martin Luther King is a community' now greeted march participants."
Other friends spoke about her dedication to helping minorities and women at Baker Botts, the first law firm where she worked and in the legal community in general.
When Marshall herself got up to speak, she thanked her friends, she thanked ADL, and she expressed special delight in getting an award named after the late Karen H. Susman. She said the award "is all the more meaningful that it bears her name."
Marshall also praised ADL's No Place for Hate® Initiative, and thanked attendees at the luncheon for supporting it. "Four hundred schools at least are in the program.  That means thousands of teachers and tens of thousands of young people have been moved closer to a no hate environment by what we've done today."
ADL's Regional Board Chair George Gibson and luncheon co-chairs the Honorable Susan Soussan and Nicole Soussan Caplan served as emcees of the event.   Caplan closed the luncheon with stirring words.
"In thinking about today, I thought about how at the exact same age that my grandmother fled the Nazis in Berlin, my Mom watched as our country passed historic civil rights legislations.  And in thinking of myself at that age, someone who two years prior had been chased around the playground by kids screaming that Hitler was coming but who otherwise had the privilege of growing up as a proud Jew, I realized that pendulum of hate in this world is in fact just that: constantly swinging, never allowing complacency.  Just as we celebrate, we mourn. And so it goes.   I would love to be able to tell you that the work of the ADL is finite in nature, and perhaps for the next generation it will be.  But at the present moment hate and discrimination are rampant, and the need for ADL's work is unparalleled in recent history."
Caplan called on the crowd to continue supporting ADL and its work.  Funds from the luncheon will be used for ADL programs and services.