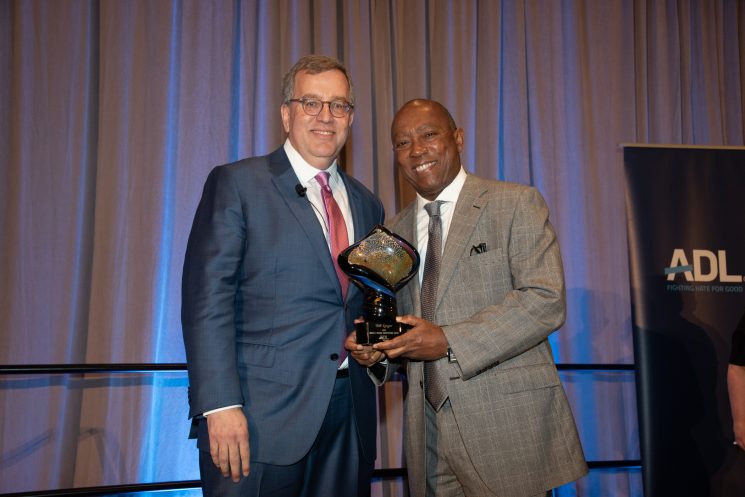 More than 700 people gathered at the Hilton Americas Houston hotel to honor 2020 Karen H. Susman Jurisprudence Award recipient Bill Kroger of Baker Botts LLP, for his dedication to the legal profession, to his firm's history and the history of Houston and to the Houston community.
As former Secretary of State, the Honorable James A. Baker, III said in a video tribute to Kroger, it seems everybody likes Bill Kroger.   The huge crowd was there to celebrate his work along with the work of ADL, and at the event they enjoyed presentations by ADL Southwest Regional Board Chair Nicole Nathan Gibson, Event chair and Kroger mentee Nicole Soussan Caplan, a glowing introduction of the honoree by Houston Mayor Sylvester Turner, and an informative and entertaining look at the history of Baker Botts from Kroger himself.  He emphasized in his presentation that the history of Baker Botts and the history of Houston were inextricably linked.
Kroger wanted the lawyers attending the luncheon to understand how attorneys, particularly those at Baker Botts, played an important role in the founding, growth and development of the city of Houston.  He lauded the law firm's dedication to diversity in a city whose "calling card" is diversity.
He also praised ADL for its fight against bigotry and hatred, and said ADL's work had "transformed Texas over many decades."  He held his fellow attorneys to a high standard, asking them "when you take a case, or help somebody in need, does that make a difference?"
The event raised more than 415,000 dollars for ADL's Southwest Region.  Kudos to Event Chair Caplan, the host committee and Kroger for their fundraising efforts.